Dog Friendly Cottage On a Dog Friendly Beach?
by Jo-anne Edwards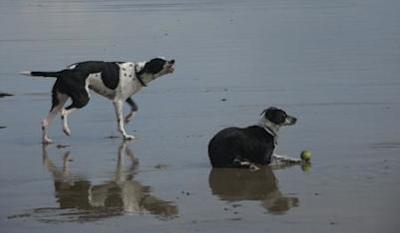 Best Mates on Broad Beach at Rhosneigr, Anglesey
Hi Wil, What a Fantastic Website!!




Now, I am probably asking a lot here but here goes...

My husband, me and my little dog - a rescue dog who was abused before landing on our doorstep - not so well behaved but getting there - want to come to Anglesey for a holiday where we are as near to a dog friendly beach as possible.

My husband cannot walk far to the beach for health reasons, but also close-ish to pubs where we can take the dog in the garden.

We obviously need to stay in a dog friendly cottage. With the dog it is obviously hard to have a break where we can go out for a meal etc.

So it would be really great if we could find a really dog friendly cottage next to a dog friendly beach near dog friendly places to eat!!

A big ask I know, but can you point us in the right direction?

PS I would love the beach to be not so family orientated cos our dog is not so good with young children.

We are looking at 17/09/11 for 1 week.

Regards,

Jo-anne Edwards



---



Hi there Jo-anne,

Thanks for your kind words. I am always amazed that anyone reads Anglesey Hidden Gem, but people seem to do so in their thousands.

Who'd have thought?

Anyway, I imagine that you have a car. I'm thinking my way around Anglesey as I type this response.

As far as accommodating all your requirements, then the best has to be Rhosneigr, and I guide your attention to Broad Bach. It is very close to the village, which has a number of well thought of bistros and cafes.

Broad Beach has plenty of space for dogs and is away from the more popular village beach and small families.

I do not deal with holiday accommodation - I now think I should, as you are about the sixth person to raise the question with me in a very short while.

However, I have just carried out a Google search with the words: anglesey dog friendly beach cottages rhosneigr and it has offered a number of possibilities.

Please inspect these and let me know if you encounter any problems.

Best of luck to you all,

Will
Join in and write your own page! It's easy to do. How? Simply click here to return to Contact Me Page.
Make Your Anglesey Holidays Really Special
Anglesey Hidden Gem and Appalling Lies & Inspiring Missives
Create more wonderful memories and experiences for you and your family and friends when you visit Anglesey.
Anglesey Hidden Gem
It is a simple and obvious thing to say, that any view or place is improved significantly when you have stories and knowledge attached to what you are viewing.


May I therefore invite you to have a look at my book 'Anglesey Hidden Gem'.

This book is full of the known and unexpected places off the beaten path you might wish to visit and offers you stories that will bring to life the distant and recent past.

Please click on the image above for more information.
By the way, Anglesey Hidden Gem is currently part of my Easter Book Sale with greatly reduced prices for this week.

'
Appalling Lies & Inspiring Missives from Anglesey'
You may also like to learn of who we are on Anglesey, of our history, character and especially our humour.

In 'Appalling Lies & Inspiring Missives from Anglesey' I offer you the opportunity to learn about us.

It is available in both Kindle and Paperback versions.


Also part of my Easter Book Sale with greatly reduced prices for this week.




---