Contact from Florida
by Bob Griffith
(USA)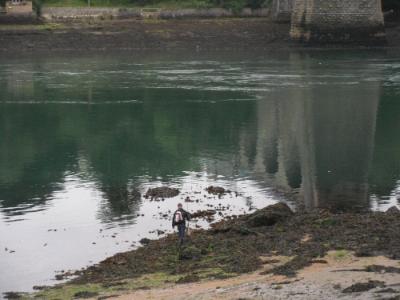 Fishing the Menai Straits at very low water
07 August 2011


Hello,
I have wanted so very much to visit Wales and this part (Anglesey) for many years. I have dreams of living there. My Great, Great Grand Father came from the Caernafon area.
I am approaching 60 and I feel my opportunity to visit for 6 to 10-weeks is near.
I would love to start a holiday in Mid-June of 2012 and stay through September.
I would love to fish and do some scuba diving. Kindest Regards,
Robert F. Griffith III, Florida, USA
---
Annwyl Bob
(Dear Bob)
I am so glad that you are making time in your life for you. It's vitally important to do these things while fit an healthy.
I'll have to do a bit of research for you on the Scuba diving areas. Please be aware that the West Coast of Anglesey is renowned for Diving, because of the excellent clear water.
I'll find someone in the
Holy Island
(Holyhead) area whom you can contact directly for diving advice.
The fishing information on the website, the dedicated pages and on beaches, is taken from conversations with local and visiting anglers. So it holds water - as it were.
Coming in June through Summer is ideal for mackerell bashing (as they call it around here). All along the west coast and across the top of the Island to
Freshwater Bay
at Point Linus. Fabulous bass fishing.
I will send you a message by another email address to see if I can assist a welcome visitor further.
My very best wishes to you,
Wil
Make Your Anglesey Holidays Really Special
Anglesey Hidden Gem and Appalling Lies & Inspiring Missives
Create more wonderful memories and experiences for you and your family and friends when you visit Anglesey.
Anglesey Hidden Gem
It is a simple and obvious thing to say, that any view or place is improved significantly when you have stories and knowledge attached to what you are viewing.


May I therefore invite you to have a look at my book 'Anglesey Hidden Gem'.

This book is full of the known and unexpected places off the beaten path you might wish to visit and offers you stories that will bring to life the distant and recent past.

Please click on the image above for more information.
By the way, Anglesey Hidden Gem is currently part of my Easter Book Sale with greatly reduced prices for this week.

'
Appalling Lies & Inspiring Missives from Anglesey'
You may also like to learn of who we are on Anglesey, of our history, character and especially our humour.

In 'Appalling Lies & Inspiring Missives from Anglesey' I offer you the opportunity to learn about us.

It is available in both Kindle and Paperback versions.


Also part of my Easter Book Sale with greatly reduced prices for this week.