Church Bay - Another Year, Bessie Mate and Marvellous Giant Scones
by William Gerwyn
(Anglesey Hidden Gem)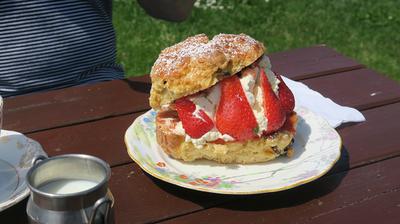 Church Bay Giant Scone - Anglesey Delight
Dear Friends


A year on and another wonderful giant cream scone at the Wavecrest Café at Church Bay.
Reporting for Anglesey-Hidden-Gem.com readers, I wish to share the following with you.
Things rarely stay the same and it's even rarer that things get even better. Case in point on the latter is the plain fact that the giant cream scones at the Wavecrest Café are not only better but the entire experience is warmer and more enjoyable.
Friday afternoon in July and I picked up my friend on time - for once (the Paddington Bear stare has finally worn me down to obedience) – and we travelled up the west coast of Anglesey for Church Bay, taking the old coast road through the village of Llanfaethlu to arrive at the bay and found a place to park.
There was the choice of eating-in or outside on the raised green opposite under the best of blue skies and the proper heat of a decent summer. It's been a bit frustrating this year. The welcome was as warm as ever by Wavecrest Café and conversation friendly and engaging and the pleasant buzz outside was only surpassed by the chattering of little finches on impatient standby hoping that people will be messy eaters yet again.
Tea was served in china cups and saucers and then silence. Take a tip from Salvo Montalbano and shut everyone else out. It's just between you and the scone. Love at first sight – yet again.
The rest of the afternoon and early afternoon was passed paddling in Church Bay below, then then a gentle walk along the Anglesey Coastal Path to find a gentle slope to sit and breathe and chat.
Another lovely memory created by simply being on Anglesey and knowing where to go for delight.
Now you know.
I assure you most sincerely that it is really this gentle an experience and a kindness to yourself.
Let me know how it goes.
Best wishes
William Gerwyn
Anglesey-Hidden-Gem.com