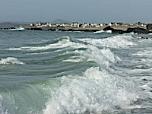 Anglesey Award
Winning Beaches
CLICK HERE

Aug 14, 18 07:06 AM

FLASH BOOK SALE Anglesey Book Store for those interesting books and MUST HAVE reading and Planning for your Anglesey holiday and education

Jul 30, 18 04:09 PM

Hi Wil I came to Cemaes Bay a few years ago and enjoyed a boat trip and a fishing trip. I was wondering how to book a sea trip again - maybe 2 hours.

Jul 20, 18 01:22 PM

The Anglesey Journal is a series of on the spot reports and reflections on my Anglesey Island Home. Beaches, villages, winding country roads and discoveries.