Bull Bay Music Festival
by Shane Phillips, Bull Bay Hotel
(Bull Bay, Amlwch, Anglesey)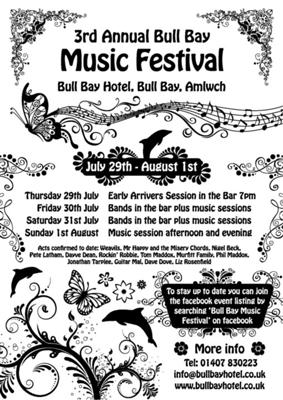 Bull Bay Music Festival Poster
The Bull Bay Hotel is proud to announce the 3rd Annual Bull Bay Folk Music Festival this coming weekend.


Schedule of events:
Thursday 29th July - Early Arrivers Session in the Bar 7pm
Friday 30th July - Bands in the bar plus music sessions
Saturday 31st July - Bands in the bar plus music sessions
Sunday 1st August - Music session afternoon and evening
Acts confirmed to date: Weavils, Mr Happy and the Misery Chords, Nigel Beck, Pete Latham, Dayve Dean, Rockin' Robbie, Tom Maddox, Murfitt Family, Phil Maddocks, Jonathan Tarplee, Guitar Mal, Dave Dove, Liz Rosenfield
To stay up to date you can join the facebook event listing by searching 'Bull Bay Music Festival' on facebook
More information is also available from the Bull Bay Hotel, Bull Bay, Amlwch, Anglesey.
Tel: 01407 830223
Email: info@bullbayhotel.co.uk
Web: www.bullbayhotel.co.uk
---
Dear Shane
Thanks for getting in touch. It sounds a fabulous event.
I know some most excellent people from Bull Bay and I hope that they get to the Bull Bay Hotel to enjoy the music.
Have a wonderfully succesful weekend.
Wil