Bishopgate, Beaumaris
by Esther
(Crouch End)
What a revelation!


Step in off the busy main street in Beaumaris and be transported back to a different era. Nice snug bar to the left and cosy lounge on the right with comfy club chairs and marble fireplace. Relax with a drink and peruse the menu in comfort.
Escorted through to the dining room with its lovely stained glass window and etched glass door, displaying a bishop's mitre, through to the kitchen.
The grilled fillet of sea bass with lime on a bed of cherry tomatoes and leeks can be highly recommended. Followed by a tiramisu to die for. Plenty of other choices of course.
Back to the cosy lounge for coffee and chocolates.
Word of warning from the owner of Bishopgate - don?t pet Molly the dog.
The temptation is there as Molly looks like an old lady used to a bit of petting but she is a trained Revenue and Customs employee and still does the odd shift or two at the port, just to keep her paw in or should that be her nose?
Well worth a visit.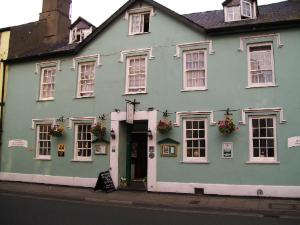 ---
Thanks very much for that brilliant report, Esther. Useful information about keeping Molly content, as well.
Anybody else out there with thoughts to share about the Bishopgate or anywhere else in Beaumaris?