Beware the Column of Fear!!
by Steve. S.
(Bromsgrove,Worc's.)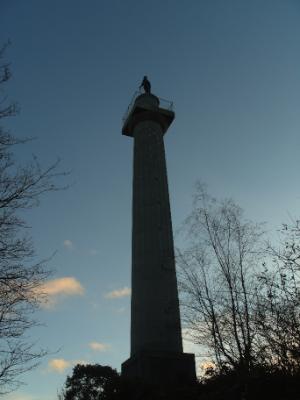 Marquess Column in Llanfair PG
Hi Wil,


Having traveled quite entensively over a period of years, I now look for something new and exciting to challenge my 61 years!
I found just that at the top of the
Marquess' Column
.
At ground level, no wind, at the top, a gale.
Please close the door
it says on the notice. But it doesn't say - be prepared to be terrified until you're a jibbering shadow of your normal self!
I totally agree that this is an experience everyone should experience, even if it's only once in your lifetime!
Steve
---
Hi Steve,
Been there and done it. I have what I regard as being a fluctuating nerve that I can never depend on to be appropriate in timing.
I once saw the Red Arrows Fly below me along the
Menai Staits
. Not bad.
The real challenge is to shut your eyes and walk around the column platform ten times. Dare you next time.
Happy Christmas
Wil