Atgofion - Memories
by Emyr Williams
(Oldham in Lancashire)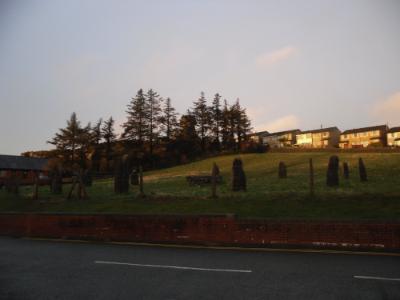 Cerrig Gorsedd Cyhoeddi Eisteddfod Gendlaethol
Proclamation of the Royal National Eisteddfod
Llangefni 1956

Dear Readers,




I have translated Emyr's message into English for you and placed it below, because I know a couple of friends out there in the world will want to find out who you are, Emyr. Wil.



Diolch o galon i ti Wil

Mae y blynyddoedd yn pasio mor gyflyn, Wil, ond mae darllen dy "web site" heddiw yn dod a llawer o hen atgofion yn ol i mi. A gobeithio fe fedru di gario ymlaen o nerth i nerth.

Llangefni, eh? Wel fe farwodd fy mam yn Ysbyty Druid llawer blwyddyn yn ol. Y Dingle. J O Williams - siop yn gwerthu beiciau modur.

Cyhoeddi yr Eisteddfod Genedlaethol fel plant yn 1956. A ffatri Ferranti o dan y neuadd y dref.

Dyn dall yn casglu arian yn ei dun yn y twnel i'r farchnad wartheg. A'r 'Strangers o Gemaes' yn canu ar nos sadwrn yn neuadd y dref.

PC Parsons ac wrth gwrs Huws Gray a Burgess i'r ffarmwrs adeg honno. Corn Hir a Lloyd Ephrain yn gwerthu cywion ieir.

Atgofion melys iawn.

A diolch i ti am am y website (gwefan) oherwydd dyma y tro cyntaf i mi 'sgwennu Cymraeg mewn 44 blwyddyn.

A'r prynhawn yma fe gefais hyd i llawer o dudalennu yn Gymraeg ac mi fedrai ddarllen Cymraeg hefyd.

Na Wil, 'rwyf ddim wedi anghofio lle y cefais fy ngeni.

Sir Fon am Byth!
EMYR (Welshrover)



---



Annwyl Emyr

Ti mor garedig gyda geiriau dy neges. Pedwar deg pedwar o flynyddoedd ne beidio, mae dy Gymraeg yn arbennig o dda.

Wil



---



Heartfelt thanks to you, Wil,

The years pass so quickly, Wil, but reading your website today brought back to me many an old memory. And I hope you carry on going from strength to strength.

Llangefni, eh? Well, my Mother died in the Druid Hospital many years ago. The Dingle. J O Williams – a shop that sold motorbikes.

The Proclamation of the National Eisteddfod in 1956. And the Ferranti factory under the Town hall.

A blind man who used to collect money in his tin in the tunnel leading to the old cattle stockyard. And the 'Strangers from Cemaes' singing in the Town Hall on a Saturday night.

PC Parsons and of course Huws Gray and Burgess for farmers in those days. Corn Hir and Lloyd Ephraim selling chickens.

Sweet memories indeed.

Thank you for your website because this is the first time I've written in Welsh in 44 years. And this afternoon I came across many Welsh pages so I know that I remember how to read Welsh as well.

No, Wil. I've not forgotten where I was born.

Ynys Môn For Ever!

EMYR (Welshrover)
Make Your Anglesey Holidays Really Special
Anglesey Hidden Gem and Appalling Lies & Inspiring Missives
Create more wonderful memories and experiences for you and your family and friends when you visit Anglesey.
Anglesey Hidden Gem
It is a simple and obvious thing to say, that any view or place is improved significantly when you have stories and knowledge attached to what you are viewing.


May I therefore invite you to have a look at my book 'Anglesey Hidden Gem'.

This book is full of the known and unexpected places off the beaten path you might wish to visit and offers you stories that will bring to life the distant and recent past.

Please click on the image above for more information.
By the way, Anglesey Hidden Gem is currently part of my Easter Book Sale with greatly reduced prices for this week.

'
Appalling Lies & Inspiring Missives from Anglesey'
You may also like to learn of who we are on Anglesey, of our history, character and especially our humour.

In 'Appalling Lies & Inspiring Missives from Anglesey' I offer you the opportunity to learn about us.

It is available in both Kindle and Paperback versions.


Also part of my Easter Book Sale with greatly reduced prices for this week.