Anglesey Show
August 11 and 12 2009

A Glorious Family Day Out
A Fabulous Fun Day
The Anglesey Show is one of Wales' premier agricultural show events and is an annual event held at the Mona Showground in the heart of Anglesey.
After the Royal Welsh Show in Builth Wells, the Anglesey Show is the second biggest agricultural show in Wales.
And more than 65,000 visitors are expected at the showground again this year.
65,000 people can't be wrong can they? Well ... unless they're lawyers or United fans.
---
THE 2010 AGRICULTURAL SHOW
There's a link at the bottom of this page that'll take you to my page on the 2010 Show.
Before you do that, though, enjoy this page to embrace the atmosphere, colour, noise and smells of the Show.
---
ONE OF THE MOST FUN THINGS YOU CAN DO IN A LARGE FIELD
Well ... ALMOST. There's always camping and caravaning.
If you've decided to spend your August holiday here on Anglesey, then a visit to the Anglesey Show is an Absolute MUST.
Where else can you find Incredibly Fun Things To See and Do?
Right here. In the Heart of Beautiful Anglesey.
If you've been to the Show before then you'll know exactly what I'm on about.
The Anglesey Agricultural Show (or Y Primin) will guarantee an absolutely glorious, noisy and colourful day out for you and your family.
Come sun or rain.
You won't need to worry about putting the little ones to bed that night. They will be exhausted. Cruel but practical.
---
WHERE ELSE CAN YOU SEE CHICKENS WITH FLARES?
Try the Poultry Tent.
If you've got the stamina then make it two days, because it will take that long to get a handle on all the events and happenings.
Even then you won't be able to fit everything in to your busy days.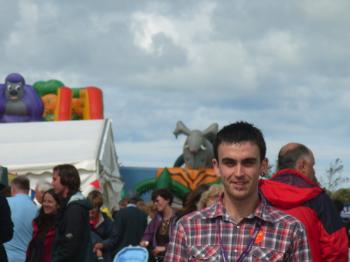 That's Ian above with an elephant on his shoulder whispering secrets while a suspicious blue monkey keeps an eye on them both.
---
SO? WHAT'S GOING ON AT THE ANGLESEY SHOW
There are two large competition rings. There's the show jumping ring and the main competition and parade ring.
The main events across the two days of competition are:
International Gun dog Trial
Shire Horse Teams and Turnouts & Driving Classes
Over 300 Light Horse Classes Including Coloured Horses, Appaloosas, Shetlands, Arabian Horses, Cob Sections A, B, C & D and Side Saddle Class
Prime Livestock on Show - Beef and Dairy Cattle, Sheep, Goats & Pigs, Poultry, Pigeon and Rabbit Marquee
Produce Marquee - Horticultural displays from competitors all over the Country i.e. Giant vegetables
Craft Marquees
Grand Parade on both days
Anglesey Vintage Equipment Society - Static and Parade
Top International Show Jumpers - 1st Prize of £2,000.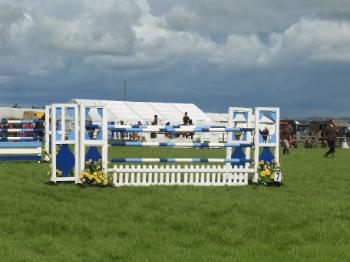 National Shearing Competitors in action
Over 350 Trade Stands including Shopping and Exhibition Hall and Food Hall
Country Pursuits Area - Falconry & Ferret Racing demonstrations




For when your feet are aching just a little bit you can head for the Entertainment Marquee.

Here you can sit and enjoy shows and performances for all the family, including a Fashion Show to keep Father distracted.






---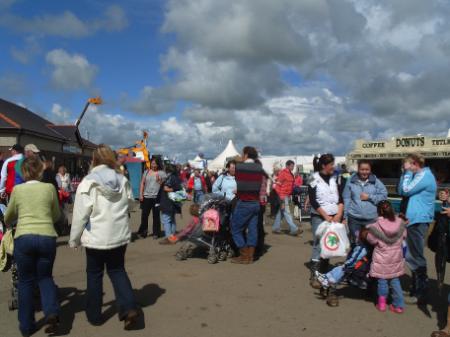 ANGLESEY SHOW ENTRANCE FEES
Adults £14 Senior Citizens £10 Children 5yrs and Over £4.
Think upon this for a moment:
Where else can you fork out the above money and spend from 8:00am until way after tea-time?
You will leave exhausted by new experiences and shared memories.
Where else can you just move from one display to the next, to the next ... the next ... and so on all day?
There are always displays and parades in the main ring and just off the main show field.
Then, there's the show jumping from dawn to dusk. Great big horses that sail through the air.
The Anglesey Show really is about the roar of the paint and the smell of the crowd.
Did you know a Peregrine can dive at a hundred miles an hour?
Go catch the display.
You CAN survive the Agricultural Show experience.
Listen, I've been to rock festivals and know that it's possible to live entirely on fish and chips for three days on the trot (literally!).
It's only your own stamina that will limit your fun. Hmm .. Ain't that the truth?
The Women's Institute and Merched y Wawr tents are the places to head for a little rest and recuperation now and then.
Tea, cakes and a fabulous, smiling Anglesey welcome for no more than a donation. If you don't donate the ladies will come around and criticise your curtains.
---
Stay In Touch with Anglesey Island Gems Updates
If you are a lover of Anglesey Beaches, Wild Seas and Glorious Countryside ...
... or if you'd simply love to learn more about them... and about this beautiful hidden gem of an island off the Welsh coast, please subscribe to my E-zine.
---
THINGS TO BRING WITH YOU
August brings with it wonderfully warm, sunny weather, though occasionally the odd semi-tropical rain shower has been observed and experienced here on Anglesey.
Good sensible shoes. You're going to enjoy a full day.
Water-Proofs - Just in case.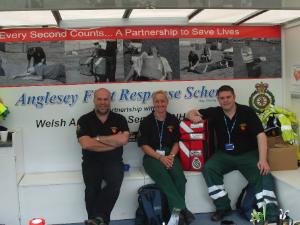 Suntan lotion.
Hats for the children and yourself.
Water to drink - Or make sure you have plenty of drinking pitstops. Excellent loos on the showground.
Your camera.
Medical emergencies?

On hand are St John's, the Ambulance Service, the Fire Brigade and the excellent Anglesey First Response Team with Duncan, Al Prince and the team.






---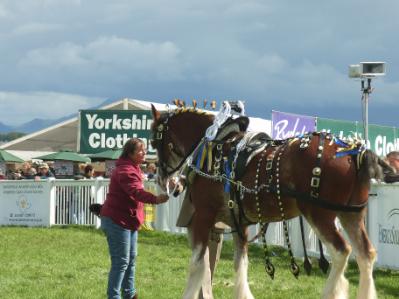 IS THAT ALL? NOTHING ELSE?
Hold your horses!
Or someone else's, for that matter.
There EVEN MORE at the Anglesey Show.
I'll be perfectly frank with you, even if you can't stand animals, there more than enough to do and see.
"Ever seen a hog roast? Well, we've got clever hogs on Anglesey."
If you're into agricultural machinery old and new then there is plenty to view and appreciate.
Me? I love standing in-between the large steam traction engines and smelling that seething intensity of oil and steam - it's almost primal.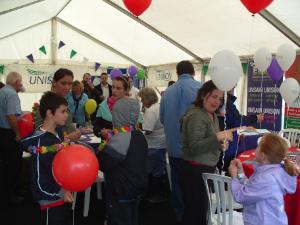 FUNFAIR! How could I forget to mention the funfair.
You'll find it at the far end of the showground.
Not that you can mistake it for anything else considering the squeals and laughter from on high.
WOOLLY JUMPERS!
The children will love the pigeon, poultry, goat and sheep competitions.
When was the last time you or your children saw and smelled a coiffured sheep?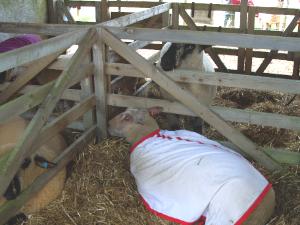 It's only after the judge has made up his or her mind that you'll ever see Anglesey Show competitors relax.
It's a serious matter.
They are as well presented and pretty as their animals.
Some of them even prettier.
"Anyway, there's always next year. If only there was a category for the most interesting cross-eyed sheep ..."
---
OH NO! FARMERS IN MUDDY WELLIES AND FLAT CAPS
There's no need to worry, because the Anglesey Show is their day of the year to enjoy themselves.
Arm in arm with their rosy cheeked wives, they parade about like any Competition Class beasts.
Dressed in their tweed jackets and shiny brogues they act like millionaires for a day.
I believe that they even borrow Mercedes and BMWs to make it a fun day for the wife. Then at the end of the day I suppose it's heartbreak when they have to hand it all back.
---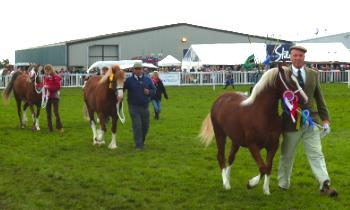 GIANT VEGETABLES AND HEY!
Imagine a scene. It's the big Produce Tent and there are men in white coats engaged in Sniffing Grass.
They gather to whisper expert opinions in hushed tones as some nervous grower looks on.
No, it's not a scene from 'The Bill'. It's Hey! Bale judging. You'll be able to have a go yourself as you wonder along the long tables covered with unimaginable bounty.
Sort of puts the old hunter-gatherers to shame. "Is that all you've got? Why can't we be like the Joneses? Why can't we evolve?"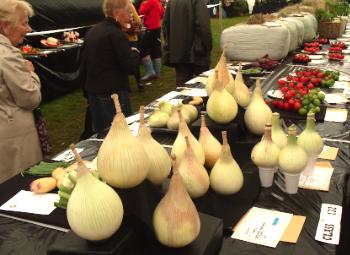 Try to look at the giant vegetables through children's eyes. Heavens but they must look really freaky.
That's Gwyneth and Margaret on the left, by the way.
If you're fascinated by Giant Vegetables like I am, then the Produce Tent will take your breath away.
It's not the sheer wonder that onions and marrows can grow that big, but why people are so passionate about growing them.
I suppose it's something you get hooked on.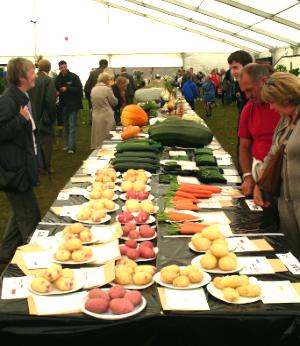 Then there's the competition with old Bob who beat you in the Llaingoch Horticultural Show last year. That hurt.
There's no such thing as friendly competition in the giant vegetable world.
Home-made wine: Wandering around the Produce Tent and the food Hall you won't believe what people get up to in their spare time.
I mean, who in their right mind would dream up an Organic Dry White Onion Wine.
Trefor 'Solomon' Jones from Llangefni would for one. Ably assisted in the tasting by Uncle Arnold, no doubt.
"Just another glass to make absolutely sure, Trefor."
---
CONTACT ME
I would love to hear from you about your visit to the Anglesey Show.
Maybe you are one of those visitors who has been visiting Anglesey for decades. A regular to the Show?
You're not the only one. I know of a family that's been visiting Anglesey since 1945. The grandchildren now bring their own children to stay.
Please tell me what makes Anglesey a special place for you.
Please feel free to share by CLICKING HERE.
---
BRINGING YOUR DOG ALONG FOR THE DAY
First of all you should be aware that this can be a pretty tiring day for any animal or human.
Like little children, dogs can become tired and very tempramental.
Any dogs that visit should be kept on a leash at all times.
All show animals are stressed by the attention and the crowds and you can help by keeping this to a minimum by either keeping your pet at home or keeping it on leash and under control.
---
LISTEN IN TO PRIVATE CONVERSATIONS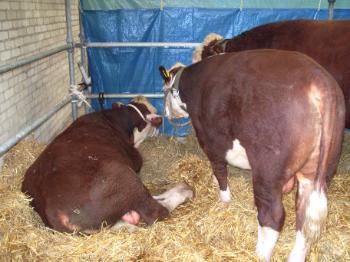 "George! Come and have a look at this. I believe it's a N42764/d ganglepin over-head extruder valve."
"Rubbish! It's the D74, James."
"What! Are you out of your mind?"
---
GETTING TO & ABOUT ANGLESEY
I refer you here to my page on getting to Anglesey in the first place.
I also list trains, planes and buses. Click here for transport options.
---
ANGLESEY SHOWGROUND PARKING AND LOCAL BUSES
Room for more than 3,000 vehicles. Your entrance fee covers this.
I must tell you that the stewards employed by the Anglesey Agricultural Society are excellent at their jobs every year.
WORTH KNOWING: If you don't want to bring your car with you, then don't worry.
For the two days of the Anglesey Show the local buses stop right outside the main entrance. Please CLICK HERE for the Bus Timetable you need
MAKE SURE YOU TAKE THE BUS THAT GOES THROUGH GWALCHMAI, OTHERWISE YOU'LL MISS THE ANGLESEY SHOW.
---
GETTING TO MONA SHOWGROUND
It's very difficult to get lost and confused trying to find the Anglesey Show Ground in Mona on the day because the AA has usually singposted the area on the weekend before.
However, if you wish to carry out a reconaissance visit before hand then the instructions below should guide you safely to the Mona Showground.
N.B. You may be tempted to try and be clever on the days of the show and approach from the side-road from Llynfaes that comes out by the old Toll House.
Forget it. Many other drivers will have thought of exactly the same thing. You won't be given priority over the A5 traffic.
---
Route 1: From A55 LLANGEFNI EXIT JUNCTION 6
Travelling from the Britannia Bridge take junction 6 for Llangefni.
Do not head into Llangefni but take take the first uphill left turning on the second roundabout.
Follow this road for two miles. The Anglesey Show marquees and tents will be plain to see in the distance.

If you are arriving later in the day, then you will probably end up in traffic. Either plan to arrive very early (8:00a.m.) or leave it until after 11:00a.m. when the traffic is lighter and moves quicker.
Traffic management is quite slick despite the thousands of vehicles that fall on the area for those two days of the Show.



---
Route 2: From A55 RHOSNEIGR JUNCTION 5
If you are arriving for the Anglesey Show from Ireland via the Holyhead Ferries (Stena or Irish Ferries) then you need to take the A55 Express Carriageway out of Holyhead. After about 10 minutes take Junction 5 indicating Rhosneigr.
Come up the ramp and take the first left turning. Follow this down to the A5 and turn right.
A couple of miles later you'll travel through the village of Gwalchmai. It's about a mile from here and pretty obvious on your right.









---
Have a look at the Anglesey Show 2010 Page