ANGLESEY OTTERS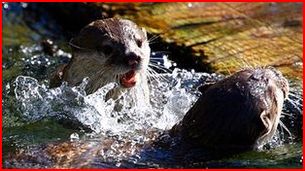 Image from BBC Wales
HOT OTTERS NEWS


December 17th 2010
I remember my older cousin, Alwyn talking about otters in the
Dingle, Llangefni when he was a child.
My cousin also told me about Fresh Water Oysters in the River Cefni below the first bridge you encounter on the Local Nature Reserve Boardwalk.
It seemed clear to me that for Alwyn the above were things of the past, never, ever to return.
However, I will now need to get in touch with my dear cousin to share the news that unknown by us both, the little varmints are back - and are in fine fettle.
---
THE COMEBACK KIDS
It was reported on BBC Wales this week that the most recent of the 7 year surveys by officers of Environment Agency Wales has revealed evidence that the otter population on Anglesey has grown steadily in 70% of the 40 identified sites.
This really is excellent news about the bio-diversity here on Anglesey. It appears that this once endangered species has gone about their re-population quietly and without much fuss.
Environment Agency Wales explains that the otter population collapsed in the 1950's as the result of agricultural practices and poor, if not non-existent, environmental management.
You'll probably know that most of the chemicals previously used in Sheep Dips, such as organo-phosphates have now been banned because of the very serious health implications for farmers.
Like with humans the organic chemicals were very toxic to the others and effected breathing, liver and kidneys.
It took a long time and an enormous amount of suffering before the ban was put in place. Gone also are the appalling practices of allowing agricultural chemicals to flow into watercourse and thence into rivers.
The environment Agency now has legislated powers to prosecute, and do so.
Further, the Agency now works with farmers to create artificial holts and refuges to encourage populations to settle and breed.
If you're travelling from Malltraeth on the road along the River Cefni then you might well spot a refuge box anchored in the side channel.
---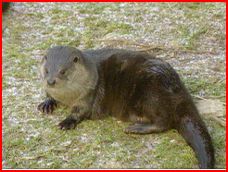 Image from BBC Wales
INDISPUTABLE EVIDENCE
So, after a long absence, there are positive signs that this species has recovered to Anglesey in significant numbers.
Speaking to BBC Wales Rob Strachan a biodiversity officer for the Environment Agency Wales said,
"Any tracks or spraints have been absent on Anglesey for 30 years ... It's been a fantastic recovery. They can be found on most of the main river systems across the island, especially on the Cefni through the RSPB reserve at Malltraeth and up to Llyn Cefni.
"It's great news to know that this species is making it back to those far-flung corners where it had been missing for so long."
---
HOT SQUIRREL NEWS
Of course the otter isn't the only species to be making a successful comeback on Anglesey.
I'm sure that you'll have perused my Anglesey Red Squirrels Project page and read of the success of this dedicated and competent group in re-establishing the Red Squirrel at a number of forest sites on Anglesey and in Treborth Woods on the Bangor side of the Menai Straits.
Considering the serious obstacles that we humans have created for many of our indigenous species, it is remarkable that they have survived at all.
There again, we do owe an enormous debt to the dedicated individuals, groups and agencies who have worked astonishingly hard to ensure their survival.
---
Visit my ANGLESEY RED SQUIRRELS Page.
Return from Anglesey Otters to HOME PAGE.
---