ANGLESEY COASTGUARD STATION
MCA Closure News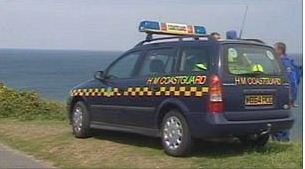 Image from BBC Wales
THE SWORD FALLS ON HOLYHEAD COASTGUARD STATON

December 16th 2010




Holyhead MCA Station (Marine & Coastguard Agency) has felt the Sword of Damocles suspended over it by the finest of threads for a couple of years now.

The blade has now fallen.
---
WHAT PRICE RATIONALISATION & COST-CUTTING?




The previous Labour Government had proposed what is called, euphemistically, a 'Rationalisation' a while back as a cost-saving exercise, though it wasn't actually realised.

Their proposal involved the closure of certain MCA Coastguard Stations, including Holyhead, and creating super centres.

As I wrote on my RAF VALLEY Page, we've been waiting for a decision from the Ministry for Transport on the closures of Coastguard Stations since Tuesday.

Well, the news came today that the Coalition Government has decided, more or less, to close Holyhead and Milford Haven coastguard leaving Wales covered by one single station at the Mumbles near Swansea, South Wales.
---
THE LOSS OF VITAL LOCAL MARITIME KNOWLEDGE




I'm afraid that I have to be overtly political here and describe the Consultation Paper on the issue as nothing more than lip service to public anxiety about the loss of not only local coastguard cover, but also the loss of vital local knowledge.

Holyhead Coastguard Station employs 23 people with a great deal of local knowledge regarding specific local weather conditions, geography and tidal characteristics.

Decisions made by MCA officers responding to 999 maritime calls reflect this local knowledge gained through many years of on-site experience.

It is this loss of local knowledge that really worries me. I remember serious problems years ago when a Utility company decided to centralise its control centre in South Wales.

As a safeguard against the loss of this local knowledge they digistised the entire supply network on a computer system and asked those people everyone knew they were going to make unemployed to sign off the digitised data as correct.

I saw some of that data and it was appallingly incorrect in the little areas that I knew and inspected

The coastal waters around Anglesey are renowned for their vicious capriciousness. I am certain that the MCA officers who operate the Mumbles Coastguard Station are extremely dedicated and professional people.

However, they will inevitably lack the very, very specific local knowledge that could well be the difference between effecting a life-saving rescue and fishing out a dead body.

The application of this vital local knowledge turns a Search & Rescue operation into an Arrive & Rescue operation.

Therefore, losing this immediate, hands-on local knowledge a directed helicopter flight time from say 30 minutes of searching narrow coves and inlets into a 5 minute flight and immediate rescue.
---
GOODBYE HOLYHEAD. A DONE-DEAL




So, as a response to those who are advocates of this change in operational capability, as proposed in the Coalition Government's Consultation paper, you should be aware of this limiting factor in any coastal rescue scenario.

Again, to risk controversy may I also posit that consultation papers of this kind are no more than a sop to those who will complain once and then stop.

Any consultation of this kind only has validity if coherent and persistent objections are raised by groups and individuals. However, call me old fashioned, but this is a Done-Deal.

Cost cutting and rationalisation in a local authority's budget has validity and is understandable. Touch the Emergency Services and the statistics will eventually lead to further changes a few years down the line.

It's called Hands-Off Management. The cold logic reads: There will be no disaster until it happens. Lessons are inevitably learned and changes are made. But lives have been lost.

Incompetence with Council Houses is one thing; incompetence in the managements and structure Emergency Services knowing that lives will inevitably be lost is unforgiveable.

Maybe it's like a battle in the long view where lives lost are calculated by the Treasury in a Cost-Benefit Analysis Calculus.
---
A LIMITED RAF VALLEY SEARCH & RESCUE SERVICE?




This news about Coastguard Station Closures comes a few days after the statement on the proposal by the Ministry of Defence's to sell off all RAF Search & Rescue Helicopters and their operational activities to what is now a French-American consortium for £7billion.

If you glance at my RAF Valley page then you'll find out the implications and great apprehension that surrounds that this Thatcher-Inspired Sell Off. CLICK HERE for more...
---
WHAT NEXT?




I know that Anglesey Hidden Gem is a holiday/vistor site but sometime you just need to reach out. So here goes,

I tell you what my greatest concern is about the Coalition Government: Getting Rid of the National Minimum Wage.

The Minimum Wage is something the Conservatives have always despised. I wonder which Liberal Democrat Minister will find himself revealing that little gem.

The nice Vince Cable or maybe Douglas Alexander?

The latter individual is beginning to look more and more uncomfortable as he undermines everything he has ever purported to believe in.
---
To quote Bob Dylan: "If You Don't Stand For Something You'll Fall For Anything."

So that begets a reasonable question for the rest of us: What are you willing to stand for? What are you willing to fall for?

I've put a question mark after each, because maybe you only regard them as rhetorical questions.

Maybe you don't have a boat or a mate with one?

Maybe you don't fish off the Anglesey Coastal Shelves?
Do YOU Have Anything To say On This Matter?

Nothing to Say or Something to Say?
---
Return from Anglesey Coastguard to Anglesey LATEST NEWS!.
---