Anglesey Black Swan
by Wil from Anglesey Hidden Gem
(Anglesey)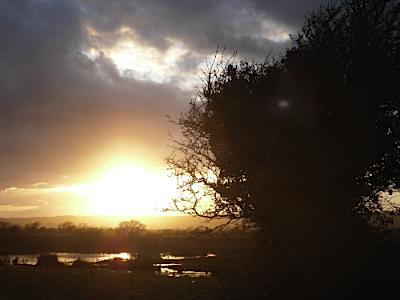 Marshland Winter Sunset
Dear Friends


Please have a good look at the above images, which I took a week and a half ago near the Anglesey County Town of Llangefni.
It was late Saturday afternoon and I had an hour or so to myself – which is a rarity – so I grabbed the opportunity and out I went. I couldn't go far because it's still Winter here on Anglesey and day's end was near.
Nonetheless, I found my way to one of my favourite spots at this time of day, especially when the light cast was a watery silver and everything just about holds on to its form before dissociating.
Along I walk eyes and ears open for the richness of birdlife settling down for the evening. And, as I already said, shapes begin to lose coherence to the gathering shadows.
Coming down the river toward me I counted seven white swans and something very odd.
It was a Black Swan!
Never seen one before but hopefully will once again, seeing as I now know where it lives and feeds. There were four pairs of swans all white save for the white and black bird pair.
Be aware, I could easily reach across the ethers into Google-Land to easily gather together all the information available
ad nauseam
and sadly
ad absurdum
; however, I prefer to speak to humans – anoraks are pushing the limit.
They were clearly a pair, so is this one of those outliers within a species?
Dear Friends, can you identify this mysterious beast for me?
Is it indigenous or a visitor?
Sorry to seem lazy, but I prefer a person's experience to binary any day of the week.
Warmest regards
Wil
Make Your Anglesey Holidays Really Special
Anglesey Hidden Gem and Appalling Lies & Inspiring Missives
Create more wonderful memories and experiences for you and your family and friends when you visit Anglesey.
Anglesey Hidden Gem
It is a simple and obvious thing to say, that any view or place is improved significantly when you have stories and knowledge attached to what you are viewing.


May I therefore invite you to have a look at my book 'Anglesey Hidden Gem'.

This book is full of the known and unexpected places off the beaten path you might wish to visit and offers you stories that will bring to life the distant and recent past.

Please click on the image above for more information.
By the way, Anglesey Hidden Gem is currently part of my Easter Book Sale with greatly reduced prices for this week.

'
Appalling Lies & Inspiring Missives from Anglesey'
You may also like to learn of who we are on Anglesey, of our history, character and especially our humour.

In 'Appalling Lies & Inspiring Missives from Anglesey' I offer you the opportunity to learn about us.

It is available in both Kindle and Paperback versions.


Also part of my Easter Book Sale with greatly reduced prices for this week.