A Brave Dad, the Coastguard and RAF Valley Search & Rescue
by Wil from Anglesey Hidden Gem
(Rhosneigr, Anglesey)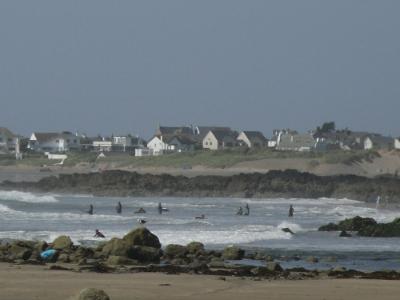 A pretty rough sea at Broad Beach, Rhosneigr
August 16 2012


Prince William leaned out of his helicopter and gave me the thumbs up sign today.
I was privileged to see an act of great bravery today just off Broad Beach in Rhosneigr. It was the first call out before the crew were called to the rescue of two young women off Cymyran Beach – to the other side of the village.
Rhosneigr was a beautiful place to be, as ever, as I started my usual two hour walk/paddle from Cable Bay to the village and back when I heard children's screams of panic in the sea.
A young boy had somehow found himself more than two hundred yards out and beyond the rocks and caught by a rip current and being carried away. A young father rushed to see what was happening and realised his young son was in trouble and his other children close to shore.
I walked toward him holding up my mobile phone as he was calling the younger ones out of the water. Then he ran and dove in for his son.
999 responded immediately to my emergency call and passed me equally quickly to Holyhead Coastguard who received my report and questioned me as to location and number involved. Not that I expected anything else, I was told that people were moving to assist.
This is where brave acts turn to tragedy but it was clear from where I was that Dad was in control and knew what he was doing. It seems that another two individuals were also seeking to assist.
The black band of rocks is parallel to the beach and no more than 200 yards away, but the sea was very rough and you could hear the screams from the shore despite the wind.
Dad and another got to the rocks. Dad climbed up and over and pulled his son onto the rocks where they were both in danger of being swept off and they both got back in the water on the beach side from where Dad swam back to shore with the young boy holding onto this father's back.
All the time the female Holyhead Coastguard operative was asking for details. I know that the helicopter is only deployed when the situation worsens. My report indicated that the situation was resolving itself and by now Dad was shepherding everyone to shore.
The young man came ashore and was comforted by his mother, brother and sisters, I would guess. Mum went out to Dad and I waded across to shake his hand and mumbled something like 'Well done'.
All the time Holyhead Coastguard was
monitoring the situation and when I told the lady the emergency was over I was asked to check the young man's condition. Mum said he was alright so it was over and no helicopter needed to be deployed, thankfully.
We went our different ways and, as if for reassurance for all the others on the beach, a short time later the RAF Valley 22 Squadron helicopter flew into view, low over the beach.
For some daft reason I waved at it, pointed in the direction of the incident and gave a big thumbs up. The pilot circled round and then the window pops open, a helmeted head pops out and give me the big thumbs up.
The pilot then went around in a circle as I took some photographs and came back right over me before moving away to land on the beach. A good photo that one. Everyone naturally moved toward it and took their own photographs.
A few minutes later it was back in the air to carry out some manoeuvres over the rocks before heading away over Rhosneigr village.
Of course we now know that the crew flew to rescue the two young ladies at Cymyran Beach who had also been caught by the tide.
A Few Things to Reflect Upon
:
1. As I walked away I found myself deeply moved as I realised that when this young man found himself in clear danger of losing his life, it was Dad who had gone and got him. How reassuring and strengthening that must be for the family, knowing that Dad will come for them when they're in the direst of trouble.
2. When I was passed over to Holyhead Coastguard by the 999 operator and gave our position, they knew exactly where we were. If the Government had closed Holyhead Coastguard as was its intention and diverted control to Aberdeen, how many minutes would have been lost in translation and attempted spellings of a Welsh name and the local landmarks I reported.
3. Local part-time Coastguards in their van were on site in minutes monitoring and reporting to Holyhead and keeping the helicopter on standby.
4. There's no need to talk too much about RAF Valley Search and Rescue because all of us on Anglesey have always respected them and hold the crews in the highest esteem.
5. The sea is always dangerous and always waiting to gather the foolish into her cold, bleak bosom.
6. Prince William will have a few good stories for his missus this evening.
7. Most important of all, there was Dad.
As they say in Holyhead, "Brilliant, yeah!"
Wil