RHOSNEIGR VILLAGE

Rounds Off A Perfect
Holiday Experience.
WELCOME TO RHOSNEIGR.
Take it from an Anglesey local, this seaside village has changed drastically for the better in the last few years.
It is once again a thriving and bustling busy little seaside village that's awoken from a long slumber.
Rhosneigr now embraces visitors from far and wide to ensure you have a memorable time on and about the beach.
Don't feel that you need to bring absolutely everything with you in the car when you choose to visit Anglesey.
Think about your Carbon Footprint. Just bring yourself.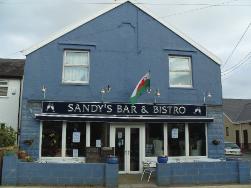 Everything you need for your visit you can buy on Anglesey.
Not only do we have big supermarkets we have plenty of country shops and post offices that will sell you everything, from stamps to snorkels.
Let me list facilities in the village available to you so that you can be assured that Rhosneigr and all its beaches are dang perfect for you.
Then feel free to have a look at other facilities in the area and the rest of Anglesey by Clicking Here.
---
NEAREST PETROL
Gwalchmai:
• About 5 miles away in the village of Gwalchmai on the A5.
Travel back to the A55 Expressway. Cross over to the A5 Treban Junction. Turn right and head a couple of miles Gwalchmai. The garage is located at the end of the village on your right.
---
SHOPS, CAFES and RESTAURANTS
• Post Office - In the village square
• Today Local Shop - Along the Main Street
• Bali Hi Chip Shop – Best chips and fishcake in the area.
The best fish and chips, however, are to be found at Simon's chip shop in Gaerwen. Tell him I sent you. I might accrue benefits.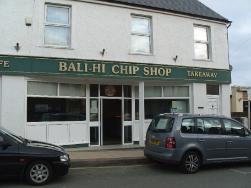 • Bee-Bees café - A small little cafe serving satisfying meals, strange sweeties and some of the most exquisite multi-flavoured ice-creams on Anglesey.
I wonder where Bryn is these days. He used to spend part of his year running Bee-Bees and the remainder as a ski instructor.
Bryn is a very pleasant and most engaging conversationalist.
• Sullivans Restaurant - On the Main Street. Feels better than the previous incarnation on this site.
• Glan Neigr Pub – Just off the Main Street. Serves food from 7:00am onwards. Cheap rooms for overnight stays.
• Fat Face Shop - Just on the village square.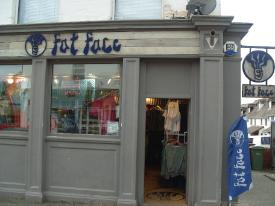 • The Funsport Shop - At the very bottom of the beach road.
Offers kite-surfing and windsurfing instruction and equipment shop. I have seen serious amounts of money pass hands in the surf shop.
---
LET US ALL KNOW YOUR FAVOURITE ANGLESEY RESTAURANT
OR EATING PLACE
Share Your Favourite Anglesey Restaurant
Where was your tastiest meal?

Share YOUR favourite with everyone by Clicking Here!
---
Do you have any questions you'd like to ask?
We would love to hear from you.
Maybe you have questions you want to ask in advance of your visit?
Maybe you have special advice - or even warnings?
Please feel free. ASK YOUR QUESTION BY CLICKING HERE.
---
NEAREST PHARMACY
• Local Pharmacy just down the main street just past and opposite the newly renovated Village Hall. Well done, the Ladies.
---
ICE-CREAMS
• Cable Bay car park. Teas and burgers also sold here. Or walk to Rhosneigr and the shops.
Rhosneigr - Take your pick. Best is Bee-Bees.
---
BANK/CASHPOINT
• Post Office - You can either use the Cash Dalek or ask for money across the counter. Every post office has an arrangement with most high street banks and you can draw money.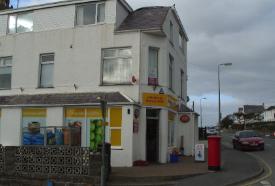 • Today local shop - You pay, if it's working.
• Llanfaelog PO. Free Cash Dalek. Or as above, if the Dalek's empty then you should be able to draw money across the post office counter.
• Llanfaelog Wayside Shop - Hole-in-the-Wall.
---
NEAREST TOILETS
Rhosneigr - Trot painfully along the Main Street and follow the sign up to your left for the Car Park and Library.
• None at Porth Nobla Beach or Cable Bay. Please employ discretion and modesty if you are caught short.
• In the main car park just off the Cable Bay-Rhosneigr road on the seaward side. It is a big box on a stand that serves its purpose adequately. It's the type of place you like to leave without touching anything.
---
PARKING AT RHOSNEIGR
The roads around the beaches fill up quickly. So, along the Main Street you'll find one placed up and to your left by the newly refurbished Village Hall.
---
PARKING AT PORTH NOBLA
Two choices:
• There is a small lay-by by the path entrance to Porth Nobla Beach.
• Cable Bay car park - Just over the brow of the hill. More or less impossible in summer days.
You could try parking on the roadside but, there again, you'll be lucky to find a space unless you get there early.
• The car park on your right half a mile out of the village of Llanfaelog toward Cable Bay.
---
Return from Rhosneigr Facilities to RHOSNEIGR BEACH.
---

---