Discovering Your Own Anglesey
Anglesey Island Gems, July 29, 2010
Hello once again,
I hope everything's well with you and yours and that you're enjoying the good weather wherever you are.
So. Nice of you to ask and things are growing well and I had a few weeks of travelling about Anglesey. Found some more lovely places for you to visit and enjoy.
---
Anglesey Island Gems brings you the latest additions to add to your visit and help you make the "best of all things Anglesey-wise."
If you like this e-zine Anglesey Island Gems, please do a friend and me a big favour and "pay it forward." If a friend did forward this to you and if you like what you read, please subscribe by visiting...
---
Issue #7, July 2010
PLACES TO VISIT
I've added a few places well worth visiting since my last missive and I hope you get the opportunity to spend some time here when you're on Anglesey.
So, without further ado,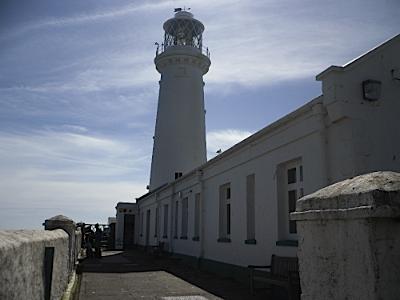 1. SOUTH STACK
I suppose that after the Menai Suspension Bridge the next most iconic image associated with Anglesey has to be South Stack Lighthouse on Holy Island (Holyhead).
The lighthouse is one of those man-made and purely functional structures that seems to add to the striking coastal scenery by some curious synergy. It really fits well into its place.
The lighthouse is now fully automated; however, it does not stand aloof as a sight alone, because you can walk down the 400 or so steps and cross onto the island. I was there about a month ago and thoroughly enjoyed my tour up into the light room.
The view from the lighthouse is astonishingly beautiful, though it comes second to the sudden views of nesting birds on vertical cliffs on your way down. Crossing the suspension bridge above a crashing sea sets the pulse racing. For more information ...
---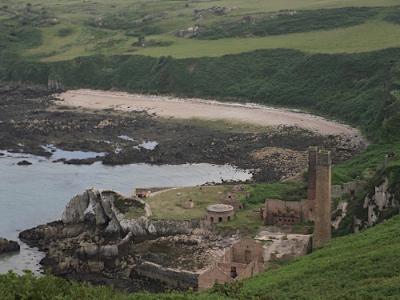 2. PORTHWEN BRICKWORKS
May I gently urge you to put your boots on, pack a picnic and amble for about an hour or so along the Anglesey Coastal Path to the east of Cemaes Bay. First of all, the walk itself is a wonderful revelation of beauty in tranquil surroundings, with a few wonderful surprises along the way.
Eventually you'll rise over a headland to gaze down with a bit of surprise at an abandoned brickworks set right by the sea. Its once busy harbour is now empty of the evidence of commerce.
Porth Wen Brickworks is a silent and atmospheric testimonial to Anglesey's industrial past. It was not only the Copper Mines at Mynydd Parys, Amlwch that was a major contributor to the Industrial Revolution that changed the World. This Works is now an object of curiousity through serendipitous discovery.
With only the sea lapping gently against the empty dockside the atmosphere appears incongruous with its location because of the silence. It's a gentle up and down walk and well worth the effort. For more information ....
---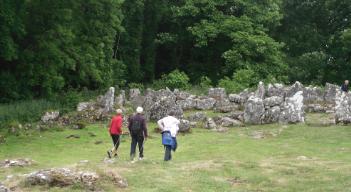 3. DIN LLIGWY ANCIENT SETTLEMENT
I'm sure I've mentioned it before that as you travel further up the eastern coastline of Anglesey it is imbued with a sense of the ancient. Nowhere more, I believe, than at Lligwy, just up from Moelfre.
Not only will you discover an ancient Burial Chamber and abandoned church. If you walk across a couple of fields up to a woodland crowning a hill you will encounter an Iron Age fortified settlement that has a history probably stretching back four thousand years.
In its latter incarnation it was taken over by the occupying Romans where smelting of iron and the odd precious metal took place.
In Summer it is an idyllic setting among the ash and sycamore trees. In Winter, it bears an eerie air with the crows wheeling and croaking with apparent knowledge and intelligence above you. For more information ....
---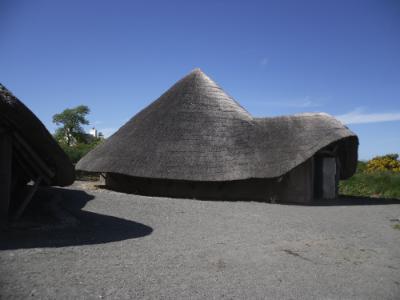 4. IRON AGE LLYNNON.
At Llynnon in Llanddeusant it is not only the working windmill that is a striking Visitors Centre and Tea Room. Just walk down a path beside the mill and gravity will bring you to the recreation of an Iron Age Settlement.
Though modern in construction, it seeks to be as genuine a representation of how an Iron Age community would have lived together. Without the smells, quite naturally.
The builders looked to archaeology for a template and it's a fascinating place to visit. Most of the materials for its construction were sourced locally, as would any Iron Age settlement.
To wander about the site and also enjoy the interior of the windmill is an absolute delight. If you have children then they will absolutely love it. For more information ... .

---
5. MYNYDD LLWYDIARTH WALK
Anglesey is famous in the United Kingdom not only for its outstanding natural beauty but also for The Red Squirrels Project. You'll find a link to the latest news from the Llwydiarth page. Mynydd Llwydiarth lies encircling an aspiring mountain near Pentraeth on Anglesey's east coast. It is the home of what was once the only remaining and struggling Red Squirrel population.
Now I'll be honest with you, you are not very likely to see one of these gorgeous and cute little critters. No, it's walking through this woodland I want to tell you about.
I'd been struggling to make the time to get to Mynydd Llwydiarth for quite a while. The frustrated anticipation was well worth it because it's a thoroughly enjoyable woodland walk. For more information ... .
---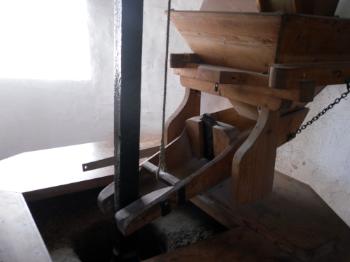 6. LLYNNON MILL INTERIOR
Ever been inside a working windmill? I know, you don't come across them all that often. This page is an addition to the Llynnon page on Hidden Gems Ezine #6.
If you're travelling along the road between Valley and Cemaes Bay, then glance to your right when you're coming up to Llanddeusant. If the sails of the windmill are turning then forget wherever else you were going and head straight there.
It's all wood and stone doing ... windmill stuff and milling flour you can buy in the shop. For more information ... .
---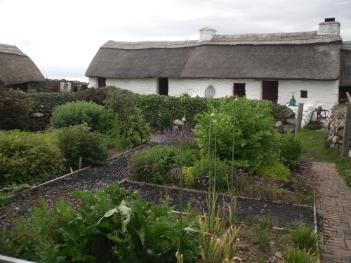 7. SWTAN COTTAGE INTERIOR
A personal ambition fulfilled again. I managed to arrive at Church Bay to visit the thatched cottage when it was open and a wonderfully conversational guide was there to share plenty of stories with me.
Like the young children of a local family who would be sent out to capture blackbirds for tea. Hard times, indeed.
Although the history of Swtan Cottage can be traced to the 17th Century, it has been refurbished in the manner of the early 1900s. Living memory reaches back that far - as do the fascinating stories. For more information ...
---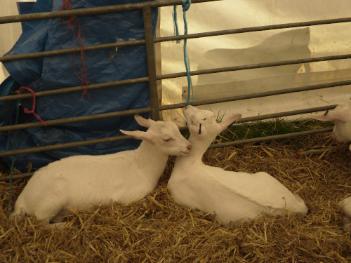 8. ANGLESEY SHOW 2010
A few weeks from now it'll be the Anglesey Agricultural Show once again. How quickly it comes around.
The Mona Showground becomes a hive of noisy and colourful activity as around 60,000 people visit to enjoy all that is the Show. For more ... .
---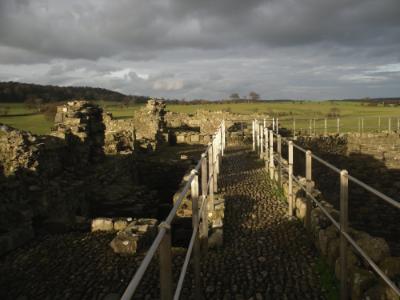 9. ANCIENT ISLE
I have finally gathered the pages on some of my favourite ancient sites on one link page and hope that you find these sites worthy of your attention.
You'll find plenty of historical information on each of these link pages but it's the atmosphere of these locations that I hope to convey to you. On a sunny day they are undoubtedly interesting sites for exploration.
But it's at twilight that I find the sense of ancient history most palpable. That time of day when shadows begin to gather into shapes that move at the edge of your vision. Don't believe me? I Dare You.
I will add more new link pages here as soon as I can. For more ...
---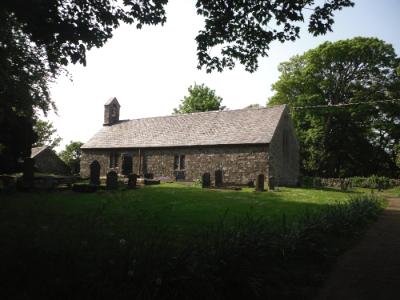 10. NICE CHURCHES
Again, at last I have gathered together some of my favourite Anglesey churches that I love to visit.
I'm not weird about these things – as a rule – yet... I find these churches wonderfully reassuring. Maybe you'll understand what I mean when you visit these remote little country churches.
I've more atmospheric churches to share with you, so keep popping back for updates.
Do take the time to visit. For more information ...
---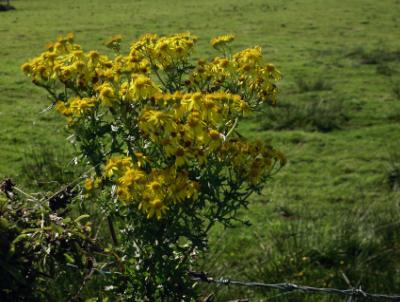 11. ANGLESEY COUNTY FLOWER
Ho! Ho! Ho! I am pretty sure I'll get into trouble over these two pages. No, Anglesey's county flower is not the prolific Ragwort.
Yet a pretty good case can be put together to support my proposition. Once you've had a glance at the first link below, then go to the second and cast your vote.
You'll know what I mean when you view these pages. I would also like you to identify fields and locations on the Island where you've spotted a few too many. For more information about Ragwort ...
Click Here to Cast Your Vote ...
---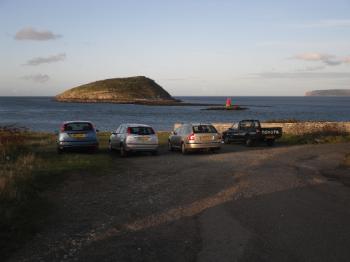 12. ATLANTIS OFF ANGLESEY?
I know. It does sound pretty wibbly wobbly doesn't it? But all I'm doing is reporting the latest theories to do with UFO abduction and the information gleaned from those unequal exchanges.
The most recent theory is that the mythic city of Atlantis could be located under the sea off Puffin Island. Some people have seen strange lights and craft rise out of the sea. I have a less than open mind about these, what with all the detection technology that we have.
Anyway, have a look and let me know what you think. For more information ...
---
13. YOUR ANGLESEY TALES
I am sure that we would like to hear about you and your stories, adventures and feelings about Anglesey.
Please get in touch and share your holiday experiences. Be honest and tell us all about the places that you love, like or hate. Enter here ...
---
14. ANGLESEY EXILES - GET IN TOUCH
Talk about hands across the oceans. Two exiles from Llangefni at the centre of Anglesey carry out a bit of research.
From New Zealand and Alaska the Terrible Twins discover very interesting facts and characters who inhabited the old manor house in Llangefni where they used to play as children half a century ago (Sorry Lads).
It's a fascinating and energetic report. For more information ...
If you're an Anglesey Exile then here's your chance to share your memories and maybe get in contact with old friends. Some people already have and it's very gratifying. For more information ...
---
15. HAVE YOU MADE YOUR SANDWISHES YET? Click Here for advice ...
---