Discovering Your Own Anglesey
Anglesey Island Gems, April 16, 2010
Sorry to be late getting to you this month,
The weather has been improving nicely on Anglesey – Don't mention Easter weekend - and I've been enjoying being out and about taking new photos and checking out my favourite places and discovering new ones.
So, Spring has arrived at last and we'd all better get organised because this brief temperate season rapidly turns into Summer. Then it's a mad rush to get everything done before Autumn's here again.
How rapidly the year turns when you make sure you've got plenty to do. Make sure that you get out in nature because fresh Spring greenery is so good for a tired Soul.
This past month I've been busy writing about the journeys and places you might consider visiting. So, Embrace the Year and Make Your Plans and Expedite!
---
Anglesey Island Gems brings you the latest additions to add to your visit and help you make the "best of all things Anglesey-wise."
If you like this e-zine Anglesey Island Gems, please do a friend and me a big favour and "pay it forward." If a friend did forward this to you and if you like what you read, please subscribe by visiting...
---
Issue #5, April 2010
In this issue I respectfully present you places to go and the warmest of welcomes to those friends out there in this wonderful World. Friends who left long ago and suffer from Hiraeth - the classic Welsh longing for place and time past.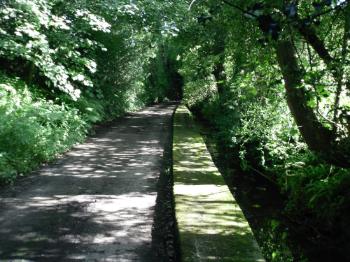 1. ABERLLEINIOG CASTLE
Did you know that we had an extra historic castle on Anglesey. More! Did you know that most of us didn't even know it was here. Well, the kids in Llangoed near Beaumaris have known about it for centuries and have played there generation after generation.
Enjoy a gentle and lovely amble through ancient woodland in an Area of Outstanding Natural Beauty and take the castle at your own pace with no-one called Norman to stop you. For more information ...
---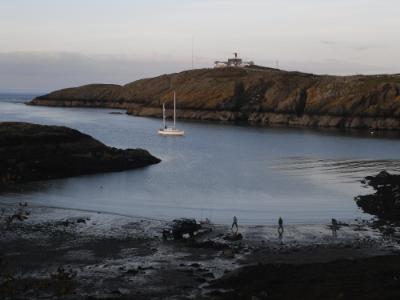 2. PENGORPHWYSFA TO DULAS DRIVE
As if that wasn't enough, why not stay on Anglesey's East Coast and drive up northward to Amlwch from where you can enjoy a beautiful, yet occasionally exciting little drive up a mountain and along the coastline to my favourite Llys Dulas.
Follow the route I describe and see Anglesey from a brand new and unexpected perspective. The entire East Coast of Anglesey Opens up to you; All the way from Point Linus to Llys Dulas.. For more information ....
This page is attached to descriptions on my Dulas Drive page. For more information ... .
---
3. LLANBABO CHURCH
Visit this ancient Church of Llanbabo where a King turned his back on the Temporal to pursue the Spiritual. This historic church lies in the very heart of rural Anglesey and a wonderful journey along narrow country roads awaits you.
All the time you are here The Devil Will Be Watching You! See if you can find its visage in the church walls. No not the faces about the Church door because they belong to a king's family. For more information ....
---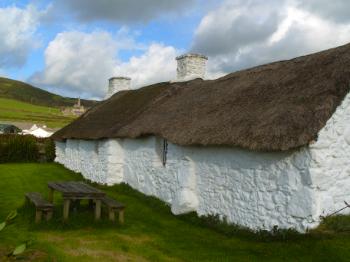 4. SWTAN COTTAGE.
A wonderfully renovated 17th Century Welsh cottage above the astonishingly beautiful Church Bay. The cottage is dressed in the fashion of the late 19th Century with an audio tour to guide you backwards in time.
But you cannot arrive, enjoy and leave Church Bay that easily, because the bay and Anglesey Coastal Path will entrance you. How about a meal at The Lobster Pot Restaurant where the lobsters are running on idle, just waiting for you?
An evening visit is highly recommended so you can enjoy the glorious sunset. Bring your partner with you and it will bring you closer together. For more information ... .
---
5. THE ROYAL CHARTER
Visit Moelfre to be moved by the wonderful sculpture depicting the sinking of The Royal Charter in 1859, the worst maritime disaster in Welsh History.
Wander about the beautiful little bay and enjoy a relaxed meal overlooking the sea. For more information ... .
---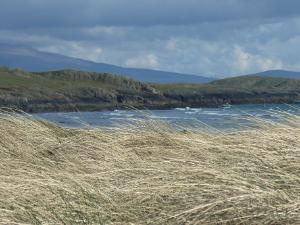 6. TY CROES COASTAL WALK TO ABERFFRAW
The West Coast presents you with a different perspective on Anglesey Coastal beauty and reinforces the fact that most of Anglesey is an Area of Outstanding Natural Beauty.
This is a gentle walk that you can make as long as you want and can, if you choose, bring you all the way to the end of our Island's Sahara Desert. Low shelving cliffs guide you around most of the coastline past the Church in the Sea and onto Aberffraw Beach. For more information ... .
---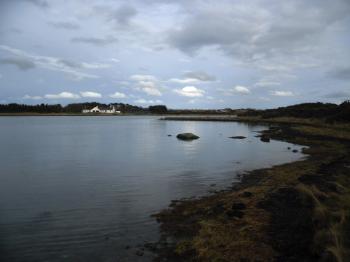 7. YNYS LEURAD
Leurad is a tidal islet in the tidal strait that races between Holyhead Cob and Cymyran Beach. I visited this lovely islet during Easter in between typical April showers when the sun broke through long enough for me to thoroughly enjoy this little traipse.
Mary tells me that was once a small Irish encampment here – the OS Map indicates so, as well; however it is now buried beneath the gorse. But that was of no consequence as I sat and enjoyed the view under a big blue sky watching the purple clouds circling in the near distance. For more information ... .
---
8. ANGLESEY EXILES
I am so glad that I created this webpage – Heaven only knows where the inspiration came from; however, here it is.
'Hands across the oceans' and all that. I have received messages from Gordon in New Zealand who has recreated a value-laden nostalgia of my home town of Llangefni and the Dingle safe adventure playground of quite a while ago. Please have a look at Gordon's lovely little articles at A Nostalgic Llangefni Sunday (scroll down to page bottom below the story form. You can also find him at Playing on Y Graig, Llangefni .
I embrace you all and invite you embrace me back with your memories and stories. For more information ...
---
Please enjoy yourselves and if you want to share your thoughts you can always write to me by using my CONTACT PAGE