The Famous Lifeboat Village of Moelfre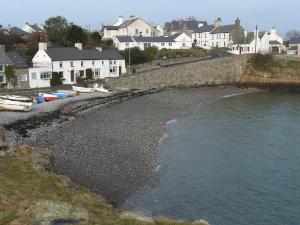 Moelfre has a very small bay with an aesthetically acceptable little pebble beach.
I challenge you to set up a stable deck chair or lie down to sunbathe without crippling your back on the pebbles.
But hang on! This is a very, very popular and thriving little visitor village.
So, it can't be the beach that brings thousands of people here every year.
While the history and the beauty of this section of Anglesey's coastal scenery may well be sufficient to satisfy your soul's longing, this is still a very small village.
Consequently, the facilities are appropriate in scale if rather limited in number.
But this is the Isle of Anglesey and everything is either at hand or close at hand.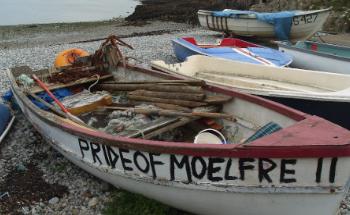 LET US ALL KNOW YOUR FAVOURITE ANGLESEY RESTAURANT
OR EATING PLACE
Share Your Favourite Anglesey Restaurant
Where was your tastiest meal?

Share YOUR favourite with everyone by Clicking Here!
---
NEAREST PETROL
Sadly, there ar no petrol stations in Moelfre, but you don't need to travel very far for a fill-up.
There again, think about your Carbon Footprint and take the regular bus service. Buy a Rover Ticket.
Benllech:
• 3 miles south in Benllech village square.

Travel back up to the roundabout and turn left.
City Dulas:
• 3 miles north. Down the hill past the Pilot Boat Inn.

Travel back up to the roundabout and turn right.
---
NEAREST SHOPS AND FOOD
In the Village:
• Village shop - On your right just before you take the short road down to the beach.
• Ann's Pantry - Right over the pebble beach (beautiful tea and cakes and snack meals)
• Oak Lodge Hotel - On your right on the road down into the village. Locally well-regarded.
• Twm's Cafe - Twm Penstryd. (01248 410295) Renowned for Home Cooking, Cream Teas and Quality Coffees. Glad to say there is no tat to be found here. It is a lovely shop that also sells quality clothes and gifts (according to cousin Fiona). Down the hill and up the other side on your left).
• Wheel and Anchor chip shop - On the main road just above the bay.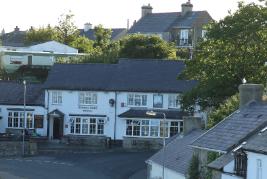 • Kinmel Arms - Right over the beach with a large patio to sit and enjoy a pint and a meal.
Loathe as I am to guide you away from the village, you'll be able to add to the degree of choice of shops and restaurants by visiting Benllech.
A few miles to your south you will find Benllech, which has plenty of small and appropriate eating places and shops.
Click here for shops and eating places in Benllech.
---
Do you have any questions you'd like to ask?
We'd love to hear from you.
Maybe you have questions you want to ask in advance of your visit?
Maybe you have special advice - or even warnings?
Please feel free. ASK YOUR QUESTION BY CLICKING HERE.
NEAREST PHARMACY
Benllech:
• Rowlands Chemists - On your left along the main street.
---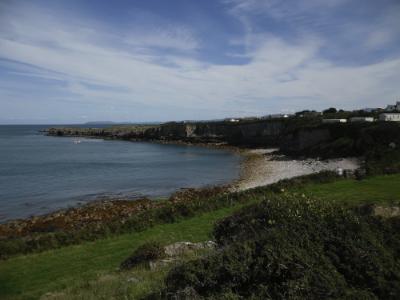 BANK/CASHPOINT
Moelfre:
• Post Office - Down past the bay and up the other side, opposite the Seawatch.
The Post Office has an arrangement with most high street banks so you can probably draw money across the counter.
N.B. Sad to report that this post office has now closed. I thank Bert for bringing this to my attention.
Benllech:
• HSBC Cashpoint - On the main street opposite the Chinese restaurant.
• Nat West Bank (no cash point) - Limited hours 10 - 3 most days.
• Cashlink in the Garage on the sqauare - The garage is also the Post Office, so you can ask for money across the counter if your bank's got an arrangement
• You can also ask for Cash-Back in the Co-op.
---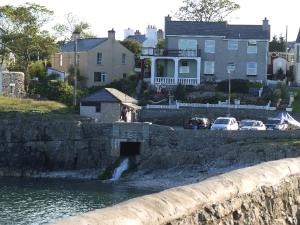 NEAREST TOILET
• In the car park above the beach.
Please be aware that these toilets are not left open all-year round.
This leaves some of us who can't plan that well with a bit of a dilemma with an uphill walk either side of the bay.
---
PARKING
• One small car park directly overlooking the beach. However, there is parking along the road you drove along before turning down for the beach. Just make sure that you keep the residents happy about where you park your vehicle.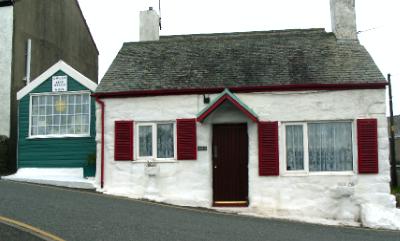 ---
---